While browsing
Las Olas homes for sale
, you may have noticed a bustling street in the neighborhood — Las Olas Boulevard. This buzzing strip is a top destination among Fort Lauderdale locals with trendy shops and highly-rated restaurants. Any day of the week, you can easily spend hours, if not an entire weekend, in this popular commercial district.
If you're brand new to Fort Lauderdale and the Las Olas neighborhood, it pays to know which restaurants are worth checking out. While you honestly can't go wrong with any choice, there are select establishments that are a cut above the rest. Here are ten restaurants on Florida's Las Olas Boulevard that will have you coming back time and time again.
American Social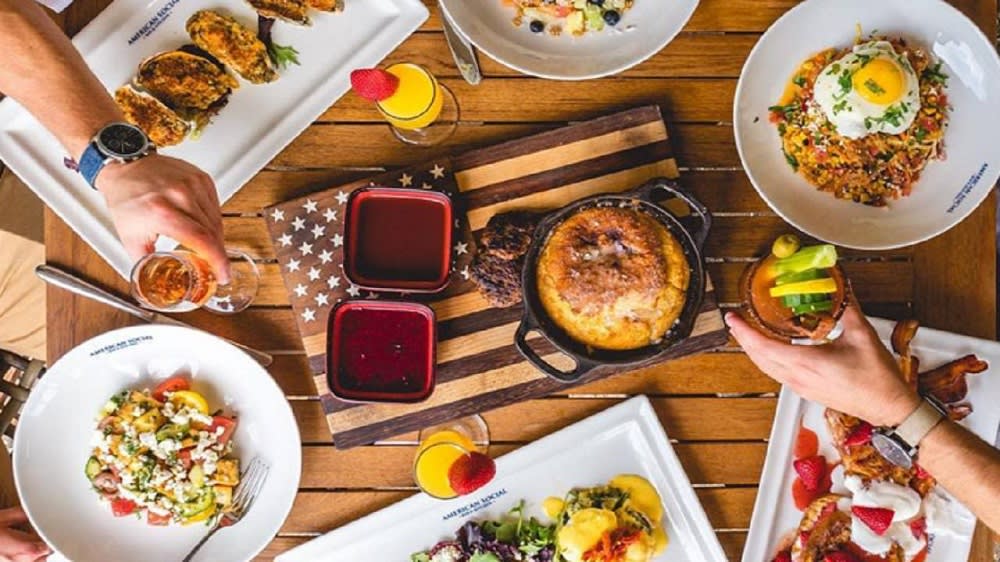 There's a reason
American Social
is a Florida chain with Miami, Tampa, Boca Raton, Orlando, and Fort Lauderdale locations. Situated steps from Riverwalk Fort Lauderdale, this restaurant has become a favorite for its food and prime location. Featuring a wide array of American fusion fare, there's no such thing as a bland dish, appetizer, or drink.
Customers love this eatery for its fabulous brunch, lunch, and dinner menus and weekly specials like Burger Monday and Taco Tuesday. Try unique offerings such as the Goat Cheese Croquettes, Fried Brussels Sprouts, or their raw bar selections to start your meal. The main entrees are equally as impressive. Favorite dishes include the Ribs and Wings platter and the Maple Glazed Bone-In Pork Chop. Individuals looking to enjoy one (or two) adult drinks will be pleased by the restaurant's menu of hand-crafted cocktails, wines, and beers.
The Floridian Restaurant
Recognized as a legendary eatery,
The Floridian Restaurant
has served Fort Lauderdale residents for over 50 years. Open 24 hours a day and seven days a week, diners enjoy an extensive all-day breakfast menu, dinner entrees, and specials unique to The Floridian. Individuals looking for ample options will love this restaurant's comprehensive menu offerings. Although it's just a tiny sample of the available selections, popular dishes include the Smoked Salmon & Eggs, Chocolate Chip Pancakes, the Italian Omelet, The Floridian Banana Split, and build-your-own breakfast wraps.
Want to know another reason why The Floridian is so popular? It's dog-friendly and offers free WiFi for customers. So if you're walking to the restaurant with your furry friend, you'll both have a spot waiting for you. This top-rated casual eatery is located at 1410 E Las Olas Blvd.
Sushi Rock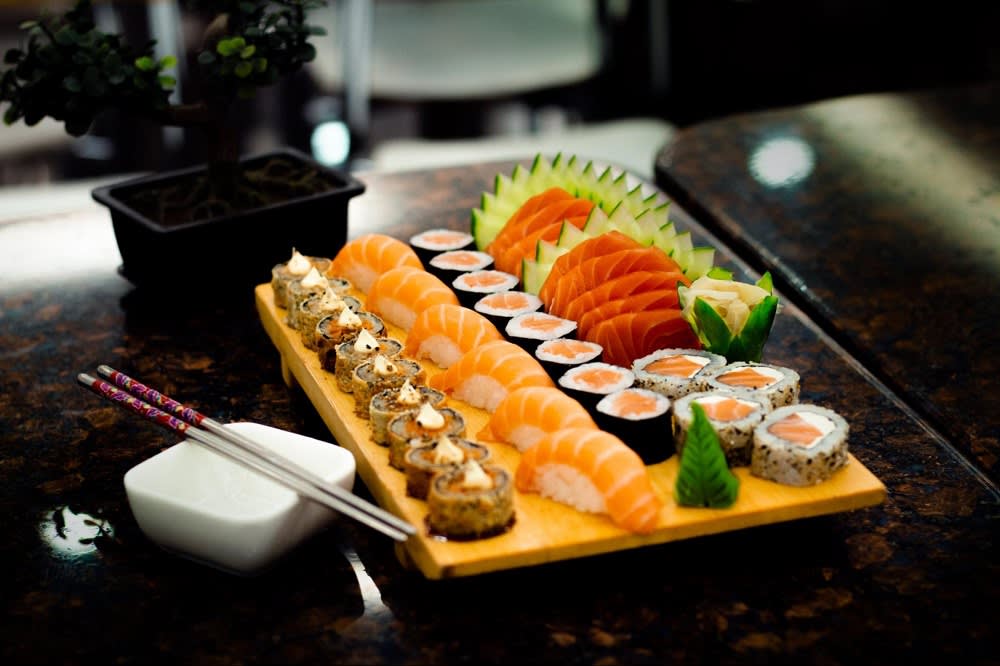 Acclaimed for its creative selection of sushi rolls,
Sushi Rock
is a highly-rated restaurant along Las Olas Boulevard. Both traditional and eclectic combos comprise this eatery's one-of-a-kind sushi bar menu. In addition to sushi, patrons can also order from a delectable menu of Japanese kitchen fare. The restaurant's trendy ambiance is another major draw for customers. Sushi Rock is located at 1515 E Las Olas Blvd.
Nanou French Bakery & Café
Craving French pastries and baked goods? Since 2015,
Nanou French Bakery & Café
has quickly become a favorite Fort Lauderdale establishment for its sublime cuisine. Start your morning with a Nutella Tartine, Chocolate Croissant, Ham & Cheese Croissant, or Homemade Crêpe. If you're stopping by for lunch, try favorite items such as the Niçoise Salad or the Parisien sandwich.
Need a beverage to accompany your meal? Choose from their selection of signature coffee and espresso drinks, or if you're staying for a while, try out their mimosa.
Wild Sea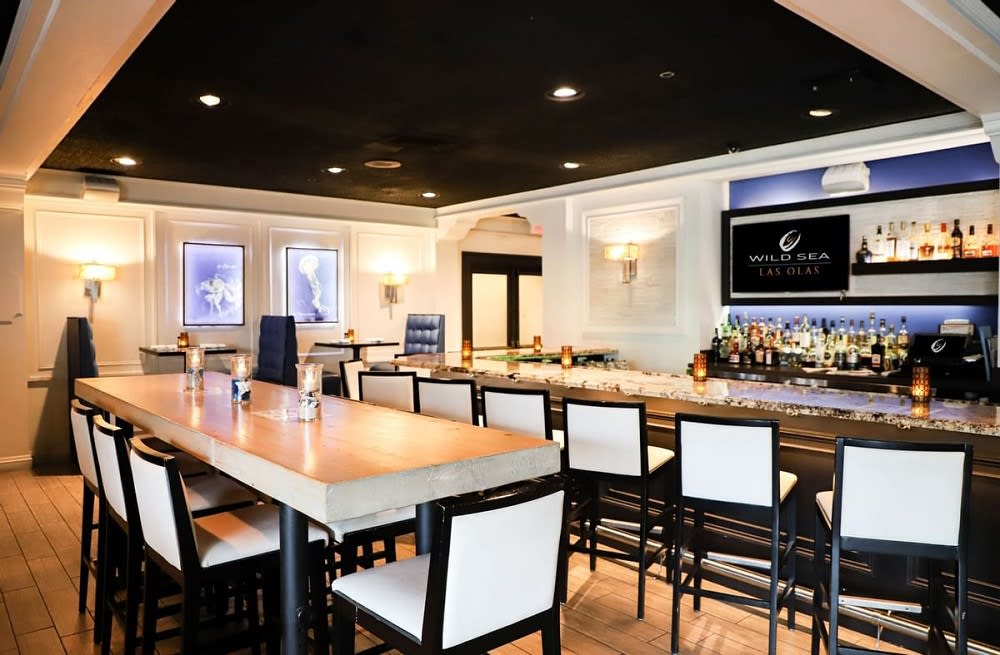 High-end dining is at its best at
Wild Sea
. Boasting an unparalleled raw bar menu and entrees for every meal of the day, nearly every palate will be pleased with this favorite Las Olas Boulevard restaurant.
Diners especially appreciate Wild Sea's approachable environment and impeccable cuisine. There is something for everyone at this popular establishment, whether you're a seafood lover or meat eater. For breakfast, top menu items include the Sweet Dreams Overnight Oats, Honey French Toast, and the Smoked Atlantic Salmon Platter. There are even more delicious foods for lunch, dinner, and the occasional weekend brunch, including the Las Olas Burger and a diverse selection of full entrees. Those who want to imbibe will be impressed by Wild Sea's creative cocktail menu and carefully curated wine menu.
Louie Bossi's Ristorante Bar Pizzeria
Authentic Italian cuisine is perfected at
Louie Bossi's Ristorante Bar Pizzeria
. Located at 1032 E Las Olas Blvd, this restaurant has some of the best Italian dishes in the entire city. Quaint and thoughtfully themed, the interior gives customers a significant wow factor.
If you've never ordered from Louie Bossi's Ristorante Bar Pizzeria, any choice you make is sure to be fantastic. Top appetizers include the Marcona Almonds, Sicilian Olives and Provolone, and the Arancini Con Tartufo. Are you looking to build your own charcuterie plate? Fill your board with cheese selections such as La Tur, Taleggio, and Robiola, and meats such as Prosciutto di Parma, Soppressata, and Finocchiona. For your main meal, choose between items such as Cacio E Pepe, Polletto Alla Griglia, and Scottadito.
Big City Tavern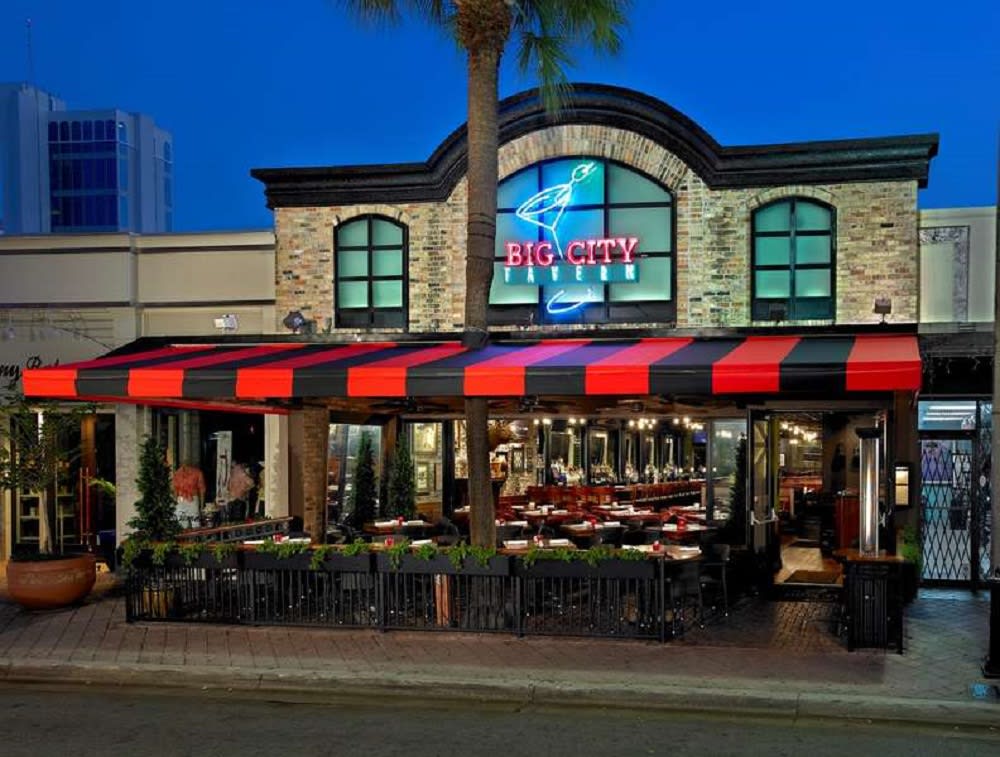 Photo courtesy of Thrillist
Big City Tavern
features some of Fort Lauderdale's best dishes, from brunch to dessert. The chef hand selects all ingredients to ensure freshness and top-tier quality. This commitment to excellence has made the restaurant an area staple.
The cuisine served at Big City Tavern can best be described as Italian fusion. Traditional plates, whether it's the calamari or the burrata Caprese, traditional plates are served alongside dishes such as the Buttermilk Fried Chicken Sandwich, Shrimp Pad Thai, and Maine Lobster Macaroni & Cheese.
B Square Burgers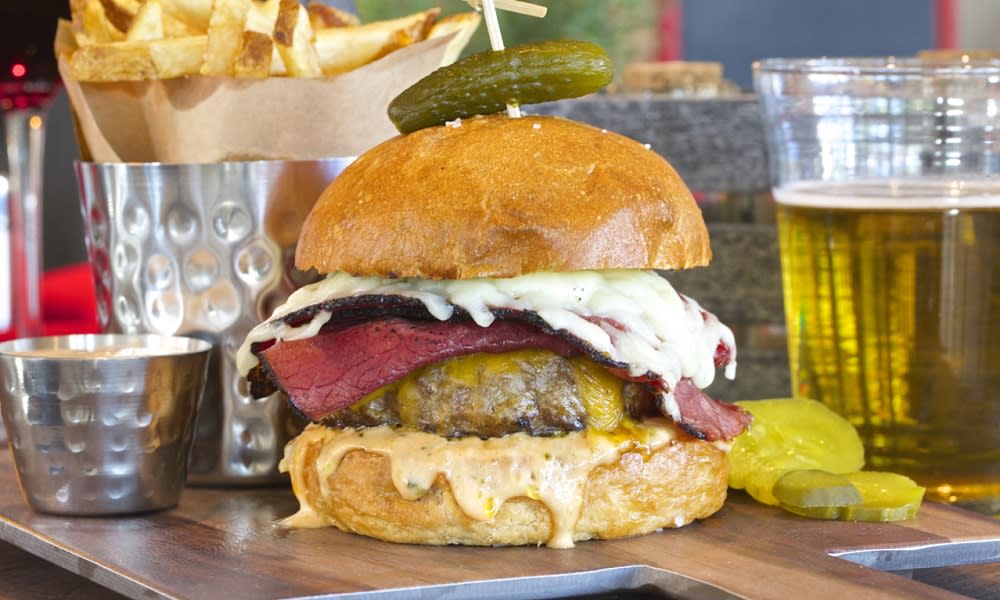 Sometimes, there's nothing better than a thick, juicy, messy burger. If this is what you're craving, head over to
B Square Burgers
(located at 1021 E Las Olas Blvd) for a real treat. Praised for its elevated comfort food, this is where to go on your cheat day!
What should you try first when dining at B Square Burgers? The eclectic selection of burgers is an obvious choice. All-natural, hormone-free patties are used to create the Phat Boy burger, the Dad Bod burger, and the Selfie burger. Other not-to-miss dishes include The Decadent Dog (a hot dog served with truffle oil, lobster, garlic butter, and other premium toppings), the Grilled Cheesy Trio, and the Ahi Tuna Tacos.
Bombay Darbar Indian Restaurant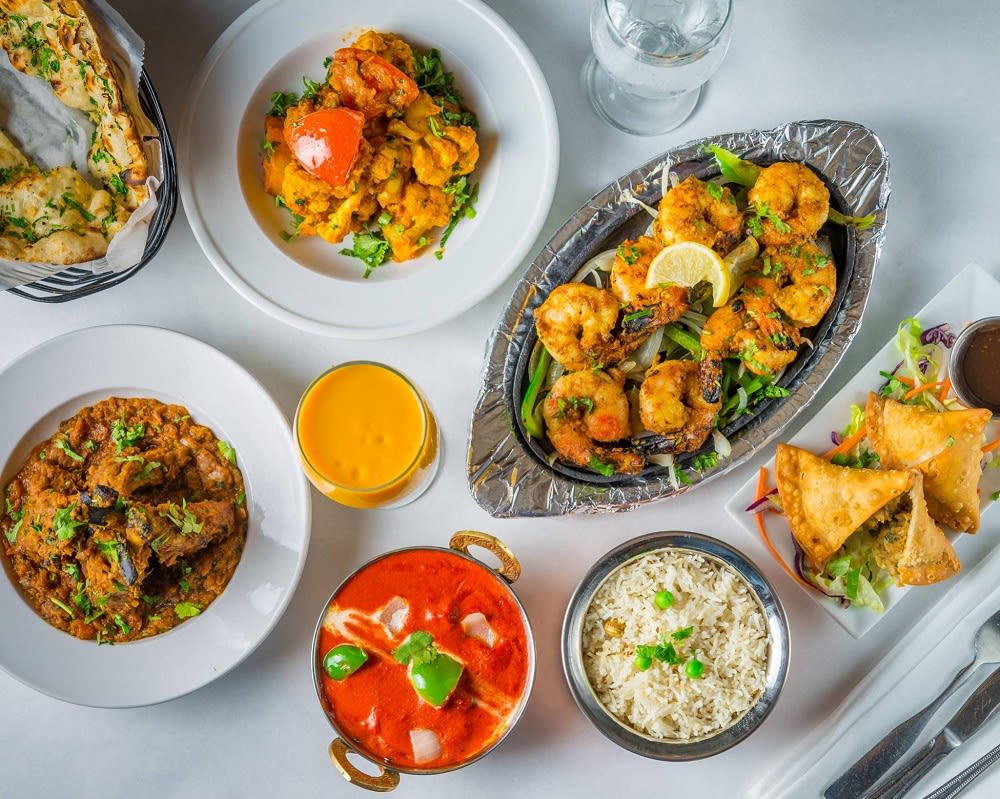 Photo courtesy of Postmates
Voted as having some of the best Indian food in South Florida,
Bombay Darbar Indian Restaurant
is another top pick on Las Olas Boulevard. Sporting an upscale interior with breathtaking chandeliers, the food isn't the only thing that impresses diners.
Start your meal with a sampling of flavorful appetizers, including the Tandoori Chicken Wings, Samosa Chaat, and Chili Paneer. Next, order your favorite vegetarian or meat-based dishes, such as Saag Paneer or the Butter Chicken. All entrees come with basmati rice, papadum, and chutney.
Friendship Café & Grill
Lauded for its fantastic selection of delicious Jewish food, all new residents should try
Friendship Café & Grill
. Homey and quaint, this restaurant is excellent for sit-down lunches and takeout. Experience a menu loaded with traditional favorites, including Shakshuka, Maqluba, Sabich, and Shawarma. On Fridays, you can also stop by for Challah by the loaf.
Ready to find the perfect home near Las Olas Boulevard? Seek out the expertise, integrity, and top-notch service from
Tagliamonte & Associates
. Contact Sandra and her team today!